Our team members are chosen for their positive 'can do' attitude, practical skills, expertise and friendly disposition.
---
It is our team's passion and desire to take ownership of the gardens and landscapes entrusted to them that makes the difference. We encourage our people to take ownership of the properties entrusted to them, to ensure a consistently high standard of service and presentation. All clients have a dedicated, multi-skilled team assigned to them. This approach means our people are empowered to make decisions and focus on individual client's needs. Our clients get the best of both worlds, their own personal gardener, who can draw on a greater pool of resource and expertise. Bark has one of the highest qualified teams of any major gardening company in the country, with 75% of our team having formal qualifications (a level of expertise well above the industry average) we bring a wealth of expertise to every job.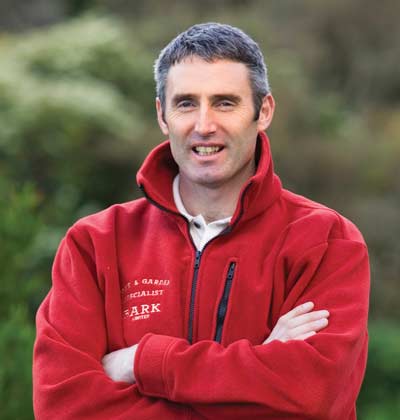 "A motto for us is: 'We can do it – and just as importantly, we want to do it'. That's the critical bit because it's the way we deliver that service that counts" Bark Director – Kerei Thompson
Our People
Meet our highly motivated and qualified team.
Kerei Thompson
Managing Director
Founding Bark in 1994, Kerei has overseen the successful expansion of the company across the county, a big portion of this expansion has been built on Barks reputation. Our reputation is driven by Kerei's passion which is backed by our Bark teams unrelenting focus on delivering exceptional customer service. Today Kerei focuses on the company direction and quality assurance.
Andrew Jensen
Regional Manager - Wellington & Hawkes Bay
Having been part of the Bark team for over 20 years, Andrew has extensive knowledge of Bark's operations and client expectations. He has a very clear view of what makes a difference to our clients and teams, when combined with his continual improvement mind-set Andrew is well equipped to assist our clients and teams; ensuring Bark consistently delivers exceptional customer service and standards across the region.

Andrews's hands on experience combined with his management expertise enables him to support our teams and clients effectively, ensuring our operations run efficiently both within the Wellington, Hawkes Bay region and across the country.
Shane Jones
Regional Manager - Auckland
Shane is a motivated leader with a drive to deliver quality and improve on his already diverse skill set in operations, project and contract management. His approachable manner and passion for quality drives his management and leadership style, and builds trusting relationships with Bark's clients and team alike. Having worked on the tools and in management he is empathetic to our team, clients and property requirements.

Shane's experience and qualifications include horticulture and arboriculture, leadership, film and television and adventure tourism.

Sandra Goudie
Regional Manager - Waikato & Bay of Plenty
Sandra manages our operations in the Waikato and Bay of Plenty working closely with our teams and clients to ensure our operations run smoothly and we consistently meet our high expectations in service & standards. Sandra is well equipped to support both our clients and teams with her hands on knowledge, including garden design having completed a Diploma Landscape Design. Like many of our team it is Sandra's can do attitude that makes the real difference.
Jo Finlay
Business Coordinator / Office Manager
Jo provides the vital business coordination and office management that enables our teams and managers to remain focused on our clients and service delivery. Jo is responsible for business improvement and system administration and development as well as coordinating team training, recruitment, health and safety and general business activities along with financial administration and general office management.
Suzanna Taylor
Company Accountant
Suzanna has been a long standing member of the Bark team. Her extremely efficient management and administration of the company's finances provides security and confidence to our clients, suppliers and our team members.

Suzanna is a chartered account having gained experience working within NZ and overseas before settling back in NZ.
Mathew O'Connor
Arboricultural Manager - Wellington Region
Matt joined Bark in 2015 as an apprentice and worked his way up to a qualified arborist, team leader and now manages our Wellington tree team. He holds an Advanced National Certificate in Arboriculture and is experienced in pruning, rigging, utility line clearance and large scale removals. Matt is fascinated by what he continues to learn about trees and feels privileged to be able to care and maintain a number of heritage trees around the Wellington region. Matt's ability to solve problems swiftly and professionally along with his people skills and his commitment to best practice in tree care, project management and customer service make him the perfect person to lead our Wellington Tree Team.
Dennis Seits
Arboricultural Manager - Auckland Region
Dennis brings to Bark over 20 years of specialist Arboriculture experience and qualified knowledge. Having worked within both European and NZ Arboriculture environments Dennis is significantly experienced and equipped within this specific industry to lead and deliver our Auckland Arboriculture operations. Through utilisation of his own technical expertise along with support from the larger Bark network Dennis will lead, engage and inspire our own team delivering safe, efficient and quality Arboricultural operations whilst also engaging and working with all of our clients and customers to continually provide a safe and quality outcomes.